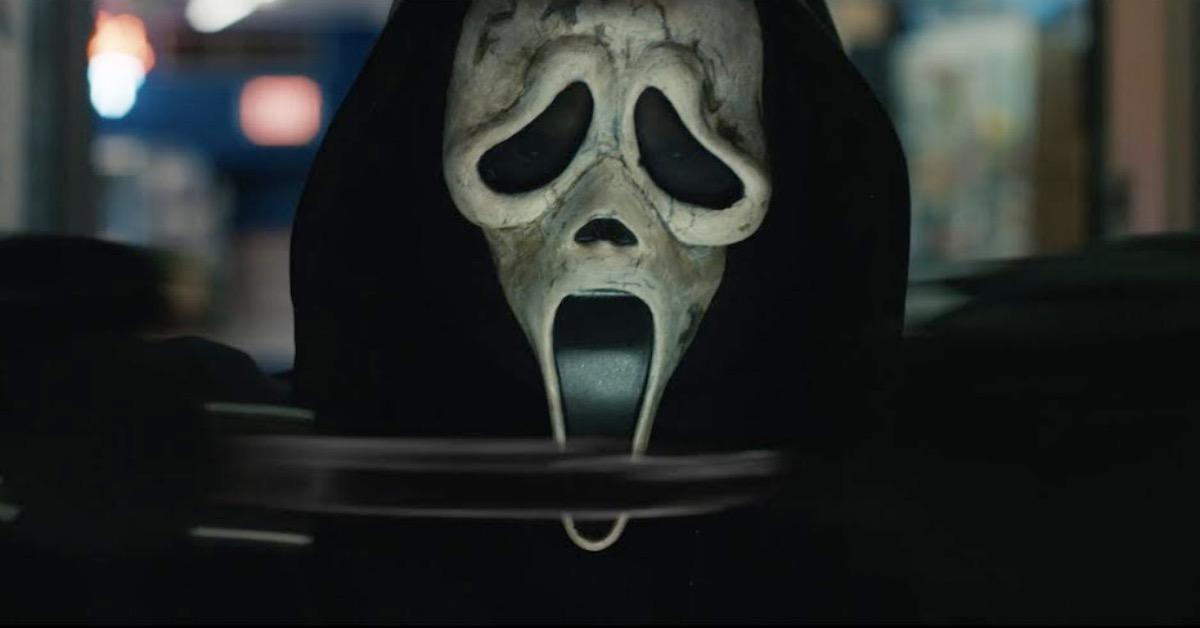 Cities around the country are getting creepy visits from one of the most iconic slasher villains in film history. Scream VI hits theaters this month, and Paramount is using some chilling viral marketing to get the word out. This week, Ghostface has been spotted on livecams in several different cities across the country, walking down streets and standing on corners. While there was some concern about these instances not being part of a marketing scheme, they are indeed tied to Scream VI's release on March 10th.
Scream VI will see Ghostface moving from Woodsboro to New York City, tracking down several of the returning characters from 2022's Scream. With the theme of a traveling Ghostface in mind, Paramount is sending the killer across the country for these cam appearances. You can check out a photo of Ghostface on a livecam below!
The people of Sonoma got a bit of a scary surprise on Monday when a person wearing a "Scream" costume stood motionless at the Sonoma Plaza. The first film in the franchise was shot at the Sonoma Community Center, just a block away. VIDEO: https://t.co/p9rtvw1FbQ pic.twitter.com/JMkjDbX6Zt

— KRON4 News (@kron4news) February 28, 2023
This is the second time in recent memory Paramount has used this type of tactic to advertise an upcoming horror movie. Ahead of Smile's release last fall, people with eerie smiles on their faces were planted behind home plate at baseball games, where the camera was sure to see them.
A Different Ghostface in Scream VI
The New York City setting won't be the only difference coming to the Scream franchise with Scream VI. The Ghostface featured in this movie dons a beaten and broken mask, indicating a potential connection to a past killer. This Ghostface is also seen in the trailers using a shotgun on a victim in a convenience store, a moment that caused some controversy amongst fans.
Directors Matt Bettinelli-Olpin and Tyler Gillett recently spoke with SFX Magazine about what sets this Ghostface apart, and defended the use of guns in the movie.
"We don't want it to be safe. We don't want it to be boring. We want it to be fun and to raise eyebrows," Bettinelli-Olpin revealed. "When we heard 'Ghostface in New York and he has a shotgun,' it was like: 'What?!' The two feelings of 'What are we doing?' and 'We have to do it!' are often intrinsically tied and that was a perfect example of that."
"There are a ton of fun, wonderful, classic Ghostface moments, but it's not the pratfalling Ghostface," Gillet added. "We love that, but for this to be scary and to achieve a level of visceral tension, we wanted to put the character more in the real world. If Ghostface is trying to get through a door, it's going to happen! There's no giving up. When he's in pursuit, the pursuit doesn't end until he's achieved his goal."
Scream VI hits theaters on March 10th.