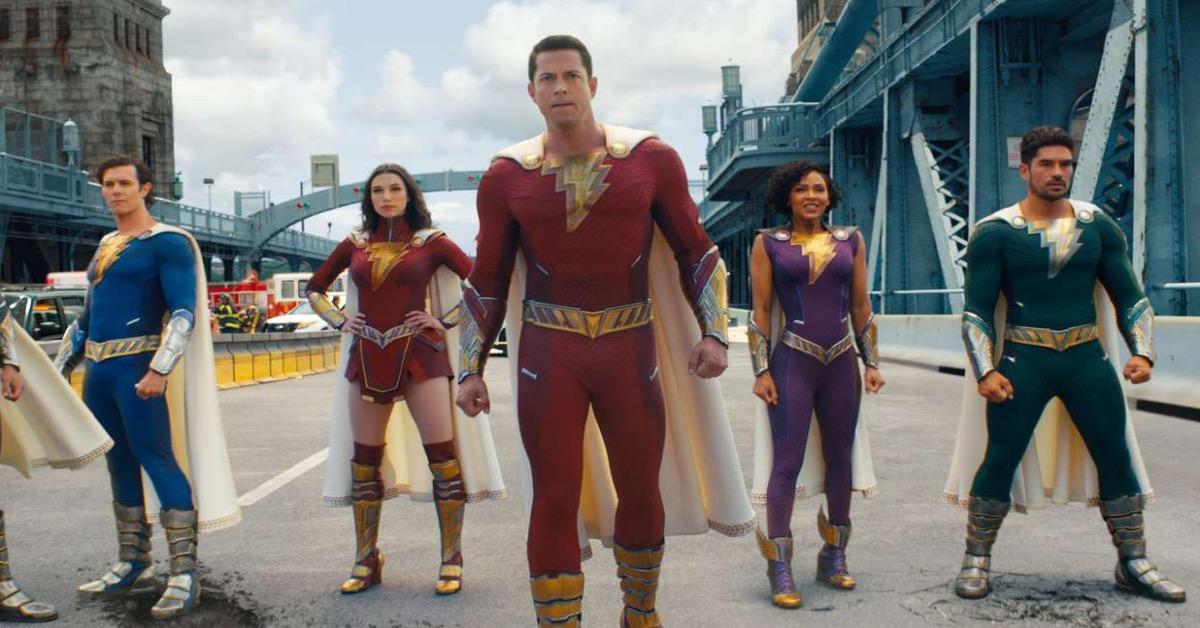 We're just a few weeks away from the launch of Shazam! Fury of the Gods, the latest film within the ever-expanding live-action DC mythos. This time around, the various members of the "Shazamily" are getting a more prominent opportunity to suit up on the big screen, after initially gaining superpowers at the end of the first film. While it remains to be seen exactly how the ensemble of heroes will factor into the DC Universe's future under James Gunn and Peter Safran, it sounds like there are a few crossovers they'd like to see happen. In an interview with ComicBook.com's Brandon Davis, Superhero Freddy actor Adam Brody and Superhero Darla actress Meagan Good revealed the characters they'd most want to bump elbows with — or maybe even fight.
"Team up with Harley Quinn," Good suggested, which Brody echoed. 
"I want to fight Mr. Mind. I don't know how you do it, but I would love to do it. I'm trying to think of like actors…"
"It would be creepy to do The Joker," Good added. "That'd be strange."
What is Shazam! 2 about?
In Shazam! Fury of the Gods, when Billy Batson and his foster siblings, who transform into superheroes by saying "Shazam!", are forced to get back into action and fight the Daughters of Atlas, they must stop them from using a weapon that could destroy the world in which they must travel in order to make peace with the Gods because of Billy taking their powers for granted.
The film stars Asher Angel and Zachary Levi as Billy Batson / Shazam!, Grace Caroline Currey as Mary Bromfield, Adam Brody as Super Hero Freddy, Faithe Herman as Darla Dudley, Meagan Good as Super Hero Darla, Ian Chen as Eugene Choi, Ross Butler as Super Hero Eugene, Jovan Armand as Pedro Pena, D.J. Cotrona as Super Hero Pedro, Marta Milans as Rosa Vasquez, and Cooper Andrews as Victor Vasquez. New cast members also include Helen Mirren as Hespera and Lucy Liu as Kalypso.
What is on the DC Universe slate?
As Gunn and Safran revealed, the initial DC Studios slate for "Gods and Monsters" will include movies for Superman: Legacy, The Brave and the Bold, Supergirl: Woman of Tomorrow, Swamp Thing, and The Authority. It will include the HBO Max television shows Waller, Booster Gold, Lanterns, Paradise Lost, and an animated Creature Commandos series.
"We're honored to be the stewards of these DC characters we've loved since we were children," Gunn and Safran said in a statement when their roles were first announced. "We look forward to collaborating with the most talented writers, directors, and actors in the world to create an integrated, multilayered universe that still allows for the individual expression of the artists involved. Our commitment to Superman, Batman, Wonder Woman, Aquaman, Harley Quinn, and the rest of the DC stable of characters is only equaled by our commitment to the wonder of human possibility these characters represent. We're excited to invigorate the theatrical experience around the world as we tell some of the biggest, most beautiful, and grandest stories ever told."
Shazam! Fury of the Gods is set to be released exclusively in theaters on March 17th.