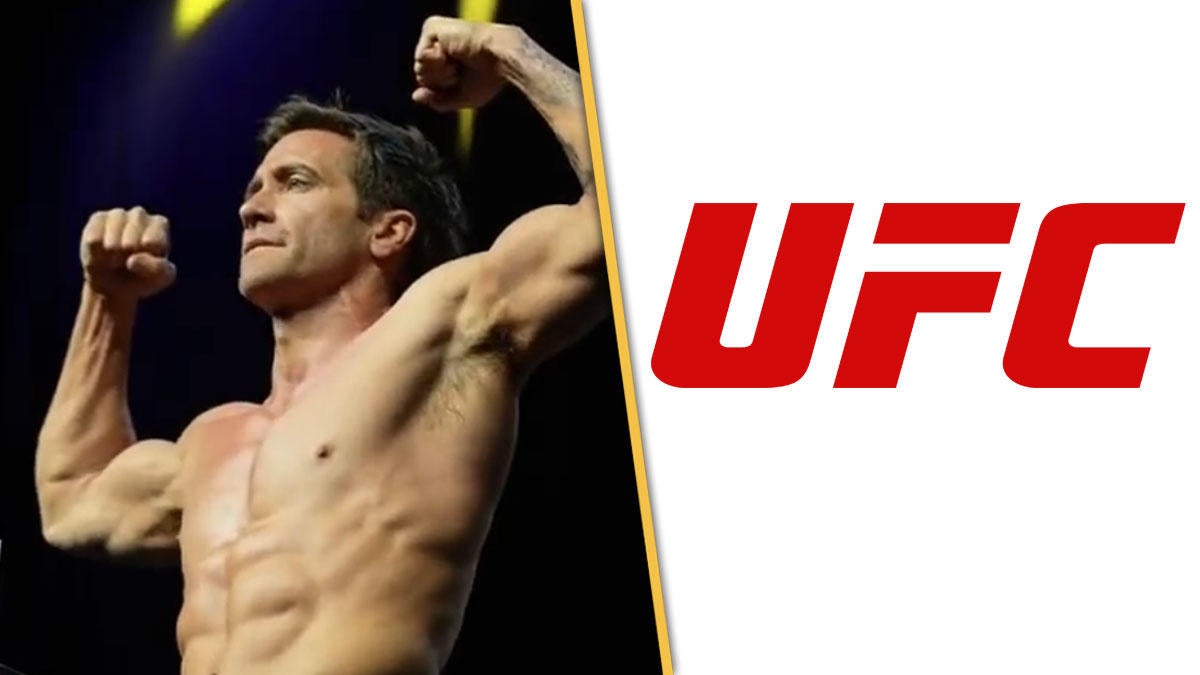 UFC held weigh-ins for the anticpated UFC 285 event today, but Dana White and the crew also ended up filming for the upcoming Road House film. In a scene filmed at the weigh-ins, Jake Gyllenhaal was seen getting up on stage and showing off his bulked-up frame just as if he was a real UFC fighter, and it's fitting since he will be starring alongside former UFC Champion Conor McGregor. Gyllenhaal gets the crowd pumped before standing in front of everyone, and then he goes to stand next to White. You can watch the scene being filmed in the post below.
Road House is a reimagining of the Patrick Swayze 1989 classic, and the new film boasts an excellent cast. The film stars Billy Magnussen (Made for Love), Daniela Melchior (Valor da Vida), Gbemisola Ikumelo (Prime Video's upcoming A League of Their Own), Lukas Gage (The White Lotus), Hannah Love Lanier (A Black Lady Sketch Show), Travis Van Winkle (The Last Ship), B.K. Cannon (Why Women Kill), Arturo Castro (The Terminal List), Dominique Columbus (Ray Donovan), Beau Knapp (The Good Lord Bird) and podcaster Bob Menery.
Jake Gyllenhaal filmed a scene for his upcoming Roadhouse movie at #UFC285🍿 pic.twitter.com/3ZRHLXL0ty

— ESPN MMA (@espnmma) March 4, 2023
Road House is directed by Doug Liman (The Bourne Identity) and is written by Anthony Bagarozzi and Charles Monday. Gyllenhaal takes the role of Dalton, who is described as "the best bouncer in the business". In the film Dalton is a former UFC fighter, so the scene we see above is probably a flashback or an introduction sequence in the film.
"Road House is a home run for us," Amazon Studios chief Jennifer Salke said in a statement. "Not only is it a nod to fans of the original, but it is also a big, fun, broad audience movie."
Added director Doug Liman, "I'm thrilled to put my own spin on the beloved Road House legacy. And I can't wait to show audiences what Jake and I are going to do with this iconic role."
Road House doesn't have a release date as of yet, but we'll keep you posted. In the meantime, you can find the official description for the original film below.
"Patrick Swayze stars in this sexy, 'violent tough-guy thriller' (Fort Worth Star-Telegram) from the producer of Die Hard and The Matrix. Co-starring Ben Gazzara (The Thomas Crown Affair), Kelly Lynch (Charlie's Angels) and Sam Elliott (We Were Soldiers), Road House delivers no-holds-barred action that pushes the envelope for high-octane thrills! Swayze is Dalton, a legendary bouncer who comes to Jasper, Missouri, for a special purpose: to restore order at the notorious Double Deuce bar. In one spectacular fight after another, Dalton rids the bar of thugs and henchmen. But when he runs afoul of a ruthless crime boss (Gazzara) who controls the town, the stage is set for a blistering showdown that'll leave only one man standing!"
Are you excited for Road House? Let us know in the comments and as always you can talk to MattAguilarCB!