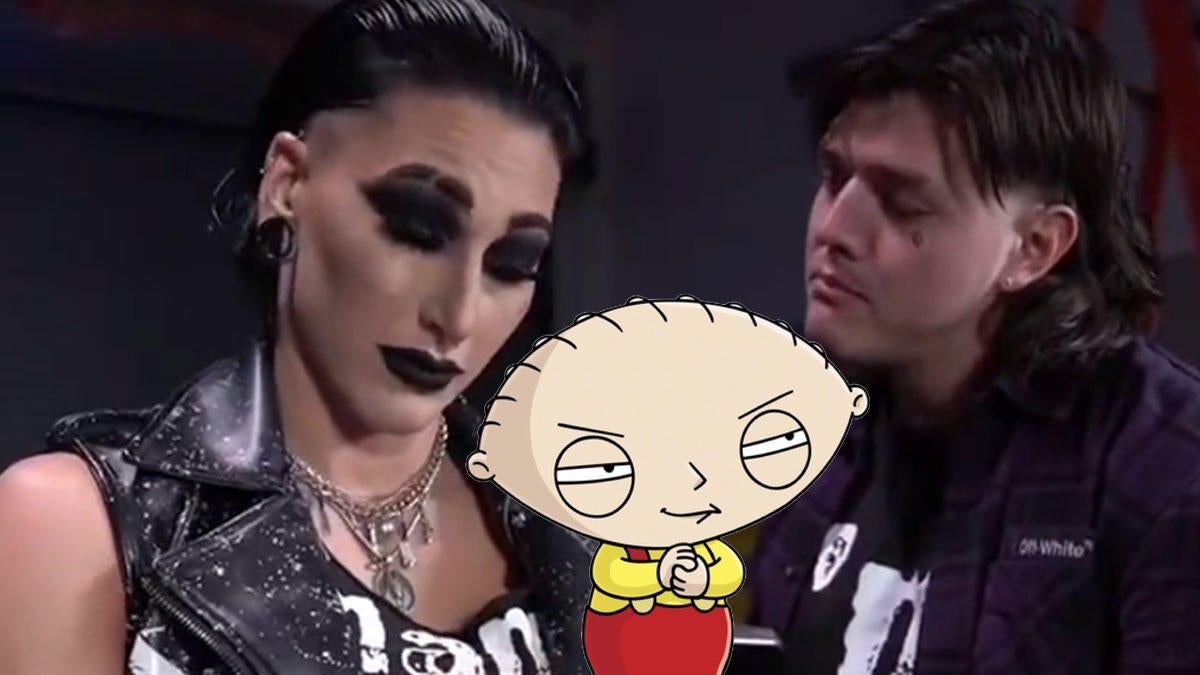 Things are going quite well for WWE's The Judgement Day, including that Rhea Ripley has a shot to dethrone Charlotte Flair and become the new SmackDown Women's Champion at WrestleMania 39. Dominik Mysterio is right there to support Mami the whole way, and the duo has now recreated a classic Family Guy sequence featuring none other than Stewie Griffin. Ripley shared the video along with the caption "Welcome to #MamiTok :scales: Ft. @DomMysterio35, and you watch the whole thing in the video below. Hopefully, this is not the last Family Guy recreation we get.
The video starts off with Ripley looking at her phone and Dominik coming up to her and saying "Mom! Mommy! Mommy! Momma! Momma! Momma!" Ripley then finally turns around and yells "What!" Dominik then says "hi" and waves, laughing as he runs away.
Welcome to #MamiTok ⚖️
Ft. @DomMysterio35 https://t.co/qp2TDDGnoN pic.twitter.com/U9qlN5Cc6I

— RheaRipley_WWE (@RheaRipley_WWE) March 7, 2023
Ripley and Mysterio have become one of the most entertaining duos in WWE, and have already created several videos where they crash Mysterio family celebrations like Thanksgiving and Christmas, often with hilarious results. Since Dominik started pairing up with Ripley, the rift between Dominik and Rey has grown exponentially, and in an interview with SPORTbible Australia, Ripley was asked about being a part of this father-son clash (H/T 411Mania).
"I never thought I'd be the reason the Mysterios broke up but here we are. I'm glad that he's finally coming into his own, you can see the confidence growing in him every week and that's what I wanted to bring out of him. We wanted him to be his own human, and that's why we had to drag him away from Rey," Ripley said.
Ripley couldn't be more thrilled about working with icons like Rey, and she's also worked extensively with Edge and Beth Phoenix, who have feuded since Ripley and Damian Priest kicked Edge out of his own group and brought in Finn Balor.
"I watched Edge and Rey growing up, to be able to go out there and share the ring with them in any sort of way is absolutely insane. Even Beth Phoenix, being my dream opponent and just having her come out and protect Edge. These are the sorts of things that I will remember for the rest of my life," Ripley said.
WrestleMania 39 will be big for both Rhea and Dom. Ripley will take on Charlotte Flair and look to start a new era as SmackDown Women's Champion. Meanwhile, Dominik will likely take on his father in a match at the biggest wrestling show of the year, though it hasn't been made official yet.
What did you think of Ripley and Mysterio's take on Family Guy? Let us know in the comments and as always you can talk all things wrestling and TV with me on Twitter @MattAguilarCB!